Impulse partners 2017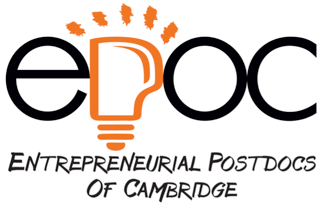 Entrepreneurial Postdocs of Cambridge (EPOC) maximise the entrepreneurial and business potential of Cambridge's world-leading research community. EPOC is an outward looking organisation, representing the interests of the research community within the ecosystem and promoting the region's research excellence to the broader corporate world. Internally, we develop and deliver initiatives to support Cambridge researchers in their pursuit of business and entrepreneurial ventures, and to awaken them to the multitude of opportunities around them.

EPSRC Impact Acceleration Account (EPSRC IAA) has awarded the University an Impact Acceleration Account (IAA), to promote wider and more effective engagement with the impact agenda. The Account provides the University with resources to deliver impact and work on the exploitation of outcomes from its EPSRC research portfolio, with the key objective of shortening the time to impact. The IAA brings together a number of previous initiatives to provide more flexibility, including early stage commercialisation, developing new partnerships and reaching out to researchers who do not normally engage in commercialisation activities.
EPSRC CDT in Nanoscience and Nanotechnologys (NanoDTC) is a centre for doctoral training at Cambridge University. It aims to produce a new sort of PhD student, trained over 4 years in many advanced Nano techniques, innovation and business practice, as well as novel science. They emphasise cross-disciplinary training in the Physical Sciences, including Chemistry, Physics, Materials and Engineering.