NPL's visionary approach drives an entrepreneurial culture
---
Providing Directly Traceable, Low Scale, Novel Mass Sensors
The National Physical Laboratory (NPL) is the UK's National Metrology Institute, developing and maintaining the national primary measurement standards. It undertakes excellent science and engineering to deliver extraordinary impact for the UK and provide the measurement capability that underpins the UK's prosperity and quality of life. From accelerating new antibiotics and more effective cancer treatments to developing unhackable quantum communications and superfast 5G, its expertise is crucial in researching, developing and testing new products and processes.
NPL is a Public Corporation owned by the Department of Business, Energy and Industrial Strategy (BEIS). NPL is part of the National Measurement System (NMS) which provides the UK with a national measurement infrastructure and delivers the UK Measurement Strategy on behalf of BEIS.
NPL has over a 1,000 scientists and engineers and they come up with lots of amazing ideas. NPL is working to commercialise these and bring them to the market to improve the UK's prosperity and quality of life; benefitting society.  NPL has had a drive to capture new ideas which include product initiation, instruments, services and training.  View the London Live video to discover more.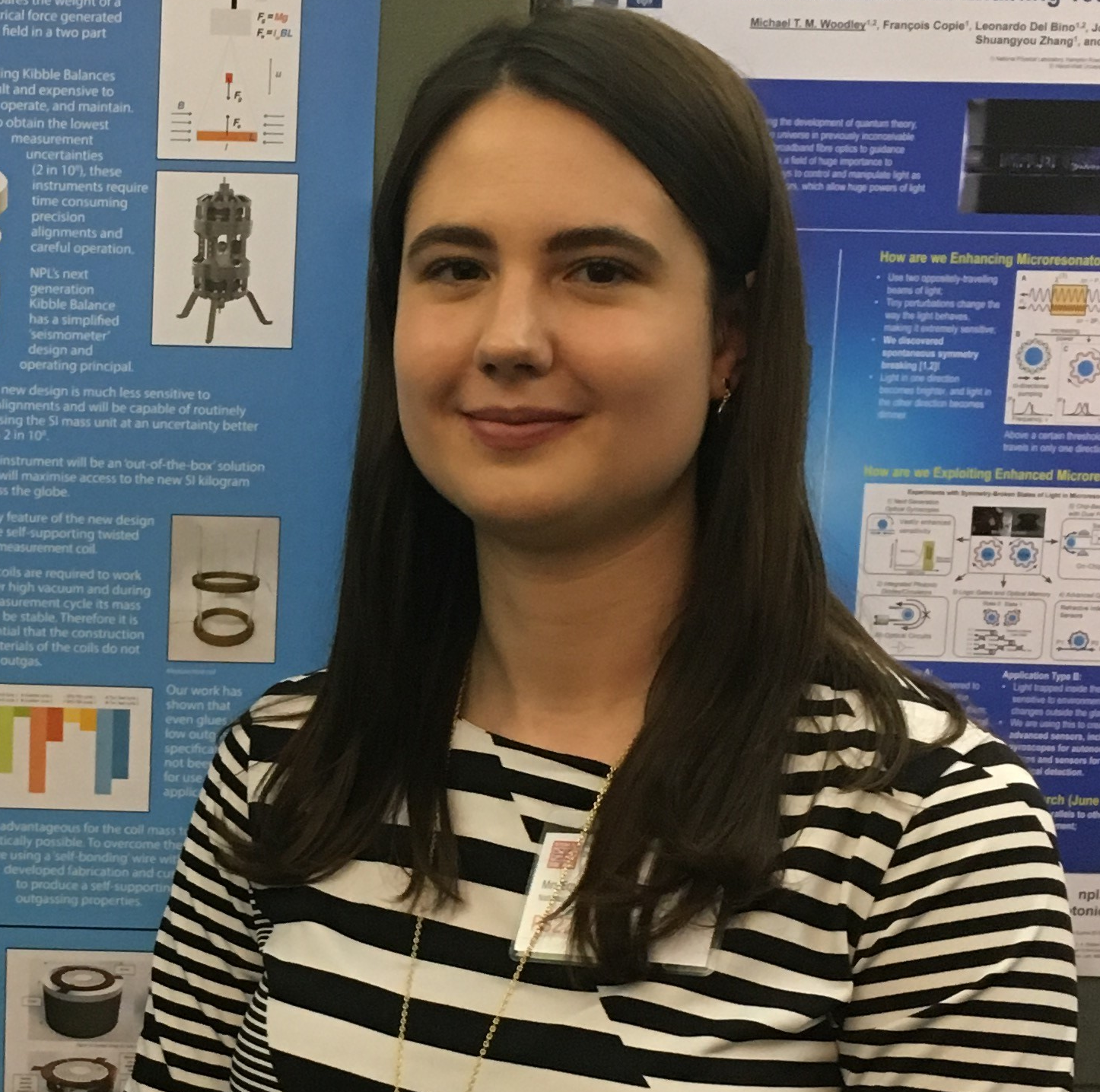 Emily Webster, a Higher Research Scientist in Mass Metrology at NPL, came up with a new business idea and was encouraged to attend the Impulse Programme 2019 supported by NPL.
Emily's interest in science began early, following in her mother's footsteps. At the age of 12 she carried out a week's work experience at a density metrology laboratory which involved carrying out experiments on orange juice.  She purchased several different brands of orange juice, as well as making freshly squeezed juice, and measured its density and velocity of sound. The aim was to see if it would be possible to create a measurement technique to detect whether orange juice labelled 'from concentrate' had been tampered with, either sweetened or diluted, which could be commercially beneficial.
Prior to university, Emily carried out several other projects with the same company. This included a large study in which over 200 tap water samples from around the world were analysed to discover whether it was possible to use a simple conductivity dip test rather than expensive density meters to determine the density of water used in compact prover base volume calibrations.
After studying for a master's degree in physics and astronomy at Durham University, Emily worked as a Density Metrology and Calibration Specialist for six and a half years prior to joining NPL.
Why the Impulse Programme?
Initially, Emily was a little unsure about attending the Impulse Programme as it was advertised as a 'steep learning curve experience' but she decided to take on the challenge
Emily Webster said:
"My idea was at a very early stage both technically and commercially. I applied for internal funding at NPL for a feasibility study by pitching to a panel of directors. The original proposal contained a significant amount of scientific work and the feedback I received was that I needed to focus more on market research and customer need. I rescoped the project and had some coaching from the NPL business development team. From this I realised that my main challenges in bringing my idea to market were:
Lack of knowledge around starting to commercialise a new idea, not really knowing where to begin particularly when it is potentially a disruptive technology

How to develop the idea within a well-established company or a larger organisation

Not really knowing how big the challenge ahead was and not fully appreciating all the things that needed to be done to ensure my vision could be successfully realised
My colleague received an email regarding the Impulse Programme and suggested that this could be for me. I didn't know then how useful it was going to be. Having participated in the programme I haven't looked back.
I found the inspirational talks from successful entrepreneurs enlightening. In particular one statement resonated with me from leading biochemist, entrepreneur and Nobel Prize winner Prof. Sir Gregory Winter who explained why he had started so many spin-out companies. He said that he 'always tries to do a spin-out based on his research' because if he 'doesn't bring his ideas to the market which would benefit society there is no guarantee that anyone else will'.
The talks given by serial entrepreneurs also made me recognise that you might start with an initial idea which may not work; but going through the journey of discovery you can often pivot to a different way forward.
I enjoyed being surrounded by peers who are in similar situations and finding out how they are going about their spin out, their business model, and funding. Being able to talk to people going through similar experiences, or who have similar questions, was very informative and fostered a productive environment.
I am so pleased that NPL are looking to develop entrepreneurial skills. Since attending Impulse I try to make an extra effort to build personal relationships directly with stakeholders whenever I can during my day to day work. NPL encourages internal networking as there are many different scientific areas being worked on and many projects. There are lots of potential opportunities for collaboration.
Attending the Impulse Programme was one of the best things that I have ever done, and it went way beyond my expectations. It changed my mindset. My colleagues say that I now have a completely different outlook. One colleague said that he 'could tell straightway that I think differently and am much more motivated and driven'."
The Mass Metrology Team
Working in the Mass Metrology team, one of Emily's responsibilities is to maintain the UK's mass scale. NPL is responsible for maintaining the primary national mass standard and disseminating the scale to industry.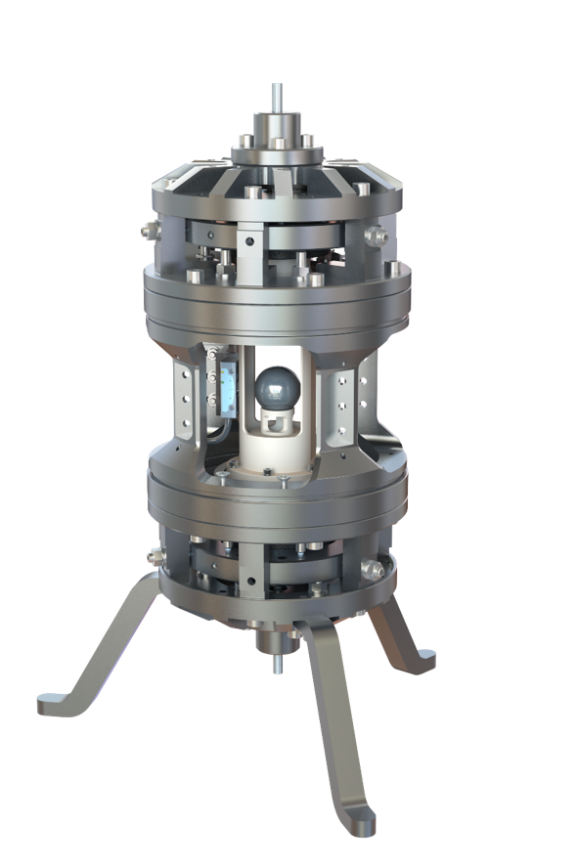 In May this year the International System (SI) unit of mass, the kilogram, was redefined in terms of a fundamental constant of nature, the Planck constant h. This change was made with the unanimous agreement of the Bureau of International Weights and Measures (BIPM) member states.  
NPL has had a fundamental role in bringing about the new definition, through the Kibble balance project.
The Kibble balance, formerly the watt balance, is named after the scientist Dr Brian Kibble who pioneered the technology at NPL in the 1970s. Current iterations of the Kibble balance, including the world-leading NPL MkII Kibble balance, which is now at NRC in Canada, were designed to measure the Planck constant. Data from Kibble balances and the International Avogadro Project allowed the Planck constant to be measured to the required level of precision and accuracy to facilitate the recent redefinition.
Kibble balances are designed to compare electrical and mechanical power. The weight of a test mass is exactly offset by an electromagnetic force produced when an electrical current is run through a coil of wire in a surrounding magnetic field. This allows the mass of an object to be realised via electrical units in relation to the fixed value of the Planck constant.
NPL are currently building the Next Generation Kibble Balance. Features of this balance include a novel mechanical design using flexure strips to minimise errors due to the misalignment of the coil in the magnetic field. It has been specifically designed for multiple unit production with the intention of distributing the means to realise the unit of mass widely. This will make the global mass scale much more robust.
Looking further forward, NPL intends to build on this work by designing Kibble balance instruments to give SI traceable mass measurements at the point of need, such as in a production process. This may extend to miniaturised apparatus for use in areas such as pharmaceutical research and production, biotechnology, personalised medicine, microfabrication, and robotics.
Emily Webster said:
"Backed by NPL I am now carrying out a part-time PhD to support the technology for my business idea. Having attended the Impulse Programme, I have completely changed the way in which I will go about developing it and I feel more motivated and empowered to take it forward. Micro-Kibble balance technology has the potential to be a paradigm shift within mass metrology, enabling the determination of small mass at levels of uncertainty previously impossible."
Emily's role also covers consultancy, helping businesses solve problems which they have in relation to mass and density measurement.
NPL is looking to increase entrepreneurial skills and appreciates the benefits these skills bring to the organisation. Developing these skills provides the scientists with a broader outlook and enables them to better understand their clients' challenges. NPL is extremely supportive in relation to staff development. For the last five years NPL have been running an apprenticeship scheme and has just taken on its 100th apprentice.
Interviewed by Sue Higgins

October 2019