Event Type:
Maxwell plus - for events co-organised by the Maxwell programme
Maxwell - NanoDTC-Impulse Innovation Seminar Series
We are very pleased to host Prof Charles Smith as speaker in our joint Maxwell - NanoDTC - Impulse Innovation Seminar Series.
The joint NanoDTC-Impulse-Maxwell Innovation Seminar Series has a series of brilliant speakers who are at different stages in their Innovation and Entrepreneurship journey.
Our next speaker Prof Charles Smith will speaking about 'Trying to identify what can be learned and what is luck using two Cavendish startup examples'.
About the Speaker
Charles G. Smith has worked on nano-electrical and nano-mechanical devices since 1985. He pioneered electrical transport work on GaAs quantum dots and techniques for measuring single electron charge movement in those dots, initially at low frequencies and more recently high frequencies for quantum computing applications. He has developed a number of low temperature scanning probe techniques for measuring nano-devices. Recently he has been working on carbon based devices. He is also the founder of two spin out companies Cavendish-Kinetics Ltd and Cambridge Lab on Chip Ltd, and he has helped raise over $20 million in venture capital to develop new technologies.
About the Seminar Series
This series of seminars happens monthly and speakers present their ideas and experiences on how innovation impacts their endeavours.
We have a varied list of speakers, from academics turned in to entrepreneurs all the way to established companies.
Registration: https://www.eventbrite.co.uk/e/nano-innovation-seminar-series-prof-charles-smith-cavendish-kinetics-ltd-and-cambridge-lab-on-chip-tickets-51250971034
Time: Wednesday, 14th November, 16:15
Venue: Rayleigh Seminar Room, Maxwell Centre, University of Cambridge
Talk begins at 16:15 with drinks reception to follow.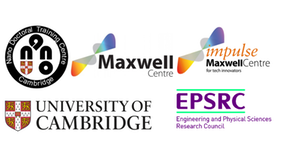 Date:
Wednesday, 14 November, 2018 -

16:15

to

18:00