Submitted by Alexandra Huener on Thu, 17/02/2022 - 17:52
---
Impulse is featured on the University of Cambridge - For Business website.
---
At the height of the pandemic, McKinsey published a report on innovating in a crisis. More than three quarters of the senior executives surveyed thought that COVID would provide significant opportunities for growth. However, fewer than 30 per cent of them felt confident that they are ready for the changes they see coming. The area in which they felt the least equipped was 'delivering net new growth opportunities'.
Innovation, the report contends, is critical for a company's long-term survival. But large companies rely on rules, systems and processes in order to keep thousands of employees pointing in roughly the same direction. How, in this context, can you create a culture in which innovation and entrepreneurship thrive? It's not enough to recruit talented people who have bright ideas. They need to be encouraged to ask challenging questions, to explore new possibilities and, above all, to apply entrepreneurial thinking. Intrapreneurs, like entrepreneurs, need a supportive environment to maintain and strengthen their innovative thinking as well as the resources required to support the success of new growth opportunities.
The University's Impulse Programme, run out of the Maxwell Centre, helps people and organisations develop the kind of 'intrapreneurial' mindset that will be vital for finding and exploiting new growth opportunities.
The twelve-week programme is intended both for 'intrapreneurs' and 'entrepreneurs'. They learn the same principles but customised to their respective situations. By the end of the programme, intrapreneurs will have a business case they can present to executives and business founders will have a fully articulated commercialisation plan. Both will have been thoroughly tested with a diverse group of senior level mentors, investors, experts and peers from different disciplines, industries and countries.
A collaborative mindset is key
No matter how good an idea is, it takes a team to make it happen. Learning how to create effective innovation teams that can bring together technology specialists with business and operations professionals, working across countries and cultures, is at the heart of the Impulse Programme. When we select participants for the course, in addition to clever ideas and passion in business, we are looking for this mix of diverse background, expertise and industry knowledge among them, so that everyone gets a real experience of working with people who have different skill- and mind-sets.
It is not always a comfortable process. People are challenged – and they have to learn how to handle uncertainties and their emotions when that happens, as well as take on board what they have learnt and move forward.
Phil O'Donovan, founder of Cambridge-based semiconductor company CSR and mentor on the course, explained in a recent article: "In the same way that quality control can't be added at the last minute, like a coat of paint, innovation is the same. It must permeate the organisation. An ability to continuously learn from others is a skill that is key to innovative thinking."
The length of the Impulse Programme is carefully considered. It's long enough to build strong relationships, whether that is with mentors or the other innovators taking part and provides sufficient time to reflect on the new business idea and refine it as necessary. But it's short enough to maintain momentum – and for the participants to operate at a high level of emotional intensity during a steep learning curve experience without becoming too exhausted.
Creating a high value network
For intrapreneurs, connecting to the wider innovation network is vital: it helps them find new talent, new ideas and new opportunities for collaboration and growth. The Impulse Programme not only connects its participants to each other but also to world-class mentors: serial entrepreneurs, venture capitalists and business angels from the Cambridge Cluster with very different backgrounds, technology expertise and coaching and mentoring styles. With such a broad range of mentors, we can find the best match for each participant.
We have around 120 contributors from the Cambridge innovation ecosystem sharing their knowledge and expertise. With an annual intake of just 40-50 participants, it's a very different format compared to similar programmes which tend to have more attendees than contributors. This ratio means that participants can meet and directly work with people who can provide a wide range of perspectives.
Networking is a key part of Impulse. Along with the business case that the participants develop with support from mentors, many find that the value they get from the programme is the connections they make. The networking sessions allow people to learn from each other and to continue to do so after the programme has finished. According to our Alumni Survey, 70 per cent of respondents said they were still in contact with their mentor and 64 per cent said they had developed between two and seven strong connections during their twelve weeks.
Having started the Impulse Programme in 2016, I never cease to be amazed by the ideas and passion of our participants and by seeing what our alumni – like quantum computing success story, RiverLane - go on to achieve.
There's still time to apply for our 2022 Programme in April. Find out more here.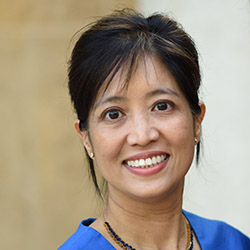 Yupar Myint, Head of Impulse Programme
February 2022
---
Read all our Business and Enterprise blog posts here