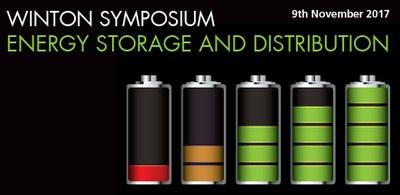 The sixth annual Winton Symposium will be held on the 9th November 2017 at the Cavendish Laboratory on the theme of "Energy Storage and Distribution".
Storage and distribution of energy is seen as the missing link between intermittent renewable energy and reliability of supply.  Current technologies that are being deployed have considerable headroom for improvements in performance, with the symposium speakers discussing some of the many new technologies that are being explored and how understanding the basic science of these can accelerate their development.
The one-day event is an opportunity for students, researchers and industrialists to hear a series of talks given by world leading experts on a pressing global issue. Topics include battery and fuel cell technologies for applications ranging from information and communication technology (ICT) to transport, and advances in distribution through developments of superconducting materials and high power electronics.  For an alternative future scenario the status and prospects of nuclear fusion energy will also be reviewed.  Follow link for details of the speakers.
With sustainability cutting across numerous disciplines, the event is intended for an audience from a spectrum of backgrounds to come together and join in the debate. There is no registration fee for the Symposium and complimentary lunch will be provided, however due to the large demand for places, participants are required to register on-line for the event.
The symposium is organised by Professor Sir Richard Friend, Cavendish Professor of Physics and Director of the Winton Programme for the Physics of Sustainability and Dr Nalin Patel, the Winton Programme Manager.
Programme: For detailed schedule follow www.winton.phy.cam.ac.uk/energystorage/programme
Registration: www.eventbrite.com/e/winton-symposium-on-energy-storage-and-distribution-tickets-36856433585
Further Information: www.winton.phy.cam.ac.uk/energystorage/symposiuminfo
Date:
Thursday, 9 November, 2017 -

10:00

to

18:00