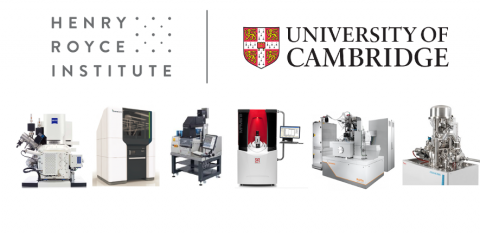 You are invited to the Cambridge Royce opening.
The Opening Event will feature
A welcome address by Professor Stephen Toope, Vice-Chancellor of the University of Cambridge,
Unveiling of a commemorative plaque by Julia King, Baroness Brown of Cambridge, Chair of the Henry Royce Institute,
Summary of the Royce's recent activity by Professor Phil Withers, Royce Chief Scientist,
Series of scientific talks from Professor Clare Grey, Professor Andrea Ferrari, Dr Sam Stranks.
About the Henry Royce Facilities at the University of Cambridge
In 2016 The Henry Royce Institute for Materials provided the University of Cambridge with £10 million capital investment for state-of-the-art equipment vital for promoting new research focussing on the theme of Materials for Energy-Efficient ICT which focuses on a range of technologies that enable more efficient energy generation, energy storage, and energy use.
The Cambridge Royce facilities comprise fourteen dedicated equipment facilities that are available for use by all UK higher education institutions and research institutions, and all UK industry, and operates as a national facility.
The Henry Royce Facilities at the University of Cambridge are now almost fully installed at the Maxwell Centre, and within nearby laboratory suites in West Cambridge. The majority of the equipment suites are now available for booking, and inlcudes a range of chemical synthesis suites, UHV and ambient thin film deposition, nanofabrication tools, in situ characterisation, packaging and electrical testing facilities. These may be used to develop both basic research and scale-up and manufacturing within ICT technologies such as batteries, photovoltaics, energy harvesting, low-power semiconductor devices, fuel cells, multiferroics, and superconductors.
For more information about the equipment, and how to book, please contact Dr Lata Sahonta, Programme Manager for the Cambridge Royce facilities (royce@maxwell.cam.ac.uk)
Info
Venue: Rayleigh Seminar Room, Maxwell Centre, Cavendish Laboratory, J J Thomson Ave, Cambridge CB3 0HE
Registration: www.eventbrite.co.uk/e/henry-royce-institute-at-university-of-cambridge-opening-event-tickets-41756742541
Aknowledgements
The Cambridge Royce facilities would like to thank the School of Physical Sciences, the School of Technology, the Departments of Physics, Chemistry, Engineering, and Materials Science and Metallurgy, for their continued commitment to supporting the Royce facilities through additional funding, staff and infrastructure contributions.
Date:
Monday, 26 February, 2018 -

10:00

to

14:30